The Churchill Corporation operated for over twenty-five years as a publicly traded holding company. The company owned nine operating businesses that were all unique and had their own brand story to tell. Even with Churchill's success, it was largely unknown to many of the markets it served and its subsidiary brands were largely unknown in the capital markets. As the industry moved rapidly towards a fully integrated solutions model, it became clear that brand unification needed to take place.
In 2013, Churchill Corporation transitioned into a unified operating brand under the name Stuart Olson. To spearhead this initiative, a comprehensive re-branding and program was needed. It began with a research and insights gathering phase that included discovery sessions across six companies, spanning three provinces and including over 100 employees. It also featured local, regional and global competitor and peer audits.
At the core of this program was a strategic brand framework and positioning platform that focused on instilling, a unified corporate culture with a strong sense of pride and purpose: "People Making Progress". This new positioning was brought to life through the development of a brand architecture that enabled visual unification while allowing for retention of legacy naming in core niche markets. A master brand logo was created to halo the many subsidiaries of the newly formed company. The orange and blue were used to separate the two words and differentiate the company in a competitive marketplace. work included: new logos, brand standards guide, brand promise, signage, and hoarding, as well as design and copywriting for brochures, stationery packages, trade show booth displays and more.
A fully responsive
website
experience was created to introduce the company to the marketplace and to establish its credentials with new and existing customers. We achieved  this with a digital strategy that included stand-alone (subsidiary) websites. These sites ran on a unified CMS platform and also hosted a large-scale enterprise Intranet. On launch day, every Churchill Corporation's website and those of their subsidiaries were greeted with a pop-up announcement that introduced the rebranded company through an emotional brand video that was directed and shot in the days leading up to the launch.
Stuart Olson's collateral brochure material was extensive and was created to address the many sectors and verticals of the multi-operational company. 
Within its three service areas of Public, Private, and Industrial, there were several unique vertical markets the company needed to address in particular. A "pick and pack" system that allowed the sales force to tailor the contents of a presentation for their target audiences. The sector brochures would provide high-level capabilities while the vertical brochures would address specific industry capabilities. A complete list of marketing communication templates was created so the many facets of the brand could be managed internally. These items consisted of newsletters, PowerPoint templates, and advertising templates, to name just a few.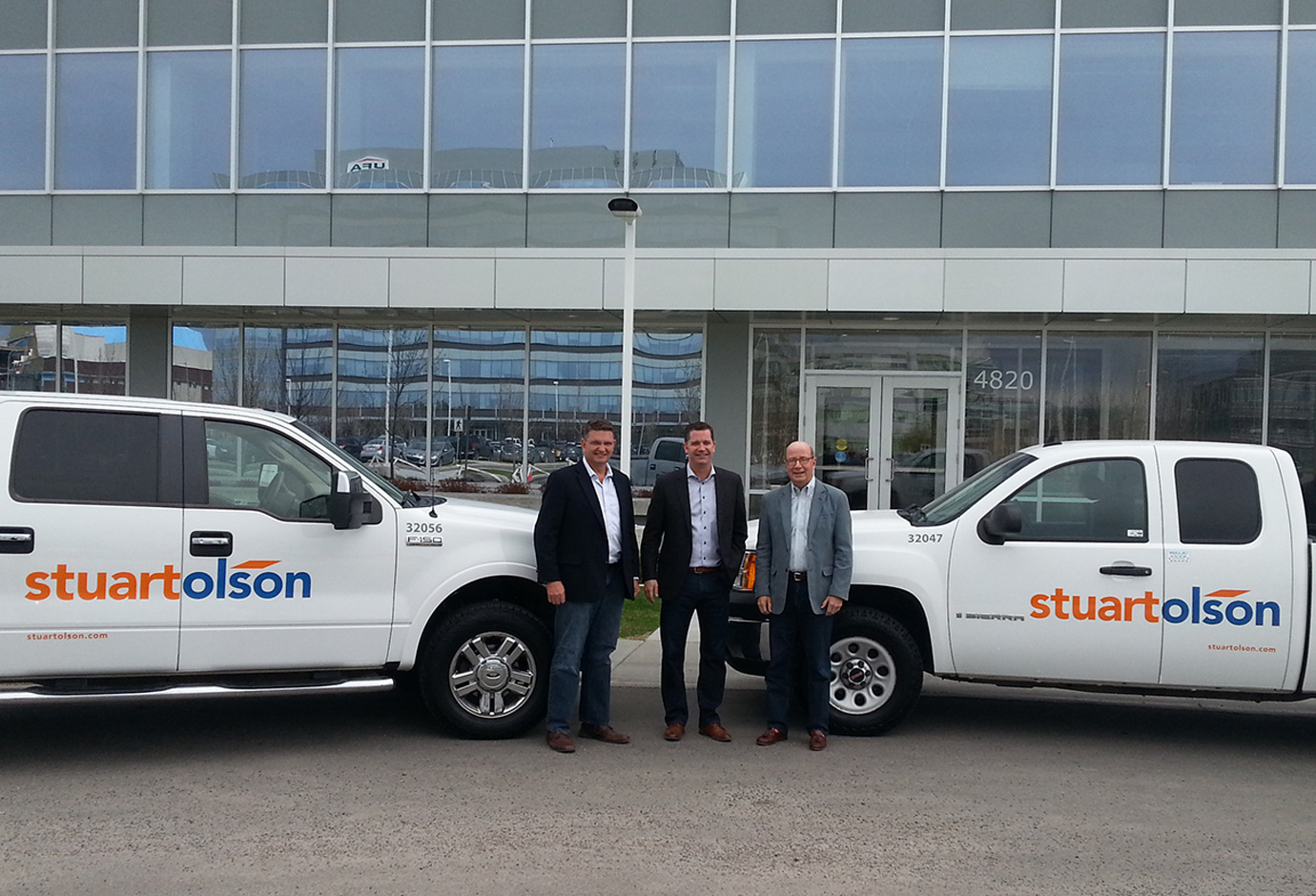 Nothing had changed regarding Stuart Olson's position as Canada's strongest construction and industrial services company, but much had changed in how the company operated and served its customers. 
This approach was integrated across all corporate assets and was a key message that was woven through the entire three-month launch campaign. To promote this message externally, full-page newspaper ads and trade publications were launched in major markets to communicate the rebrand. Also, a comprehensive range of corporate clothing that included T-shirts, hats and even genuine Stuart Olson socks! Each item was accompanied by a clothing tag that further reinforced the brand's message. Bringing the brand to life within these various outlets was another means for Stuart Olson to extend the company's influence to its clients and employees.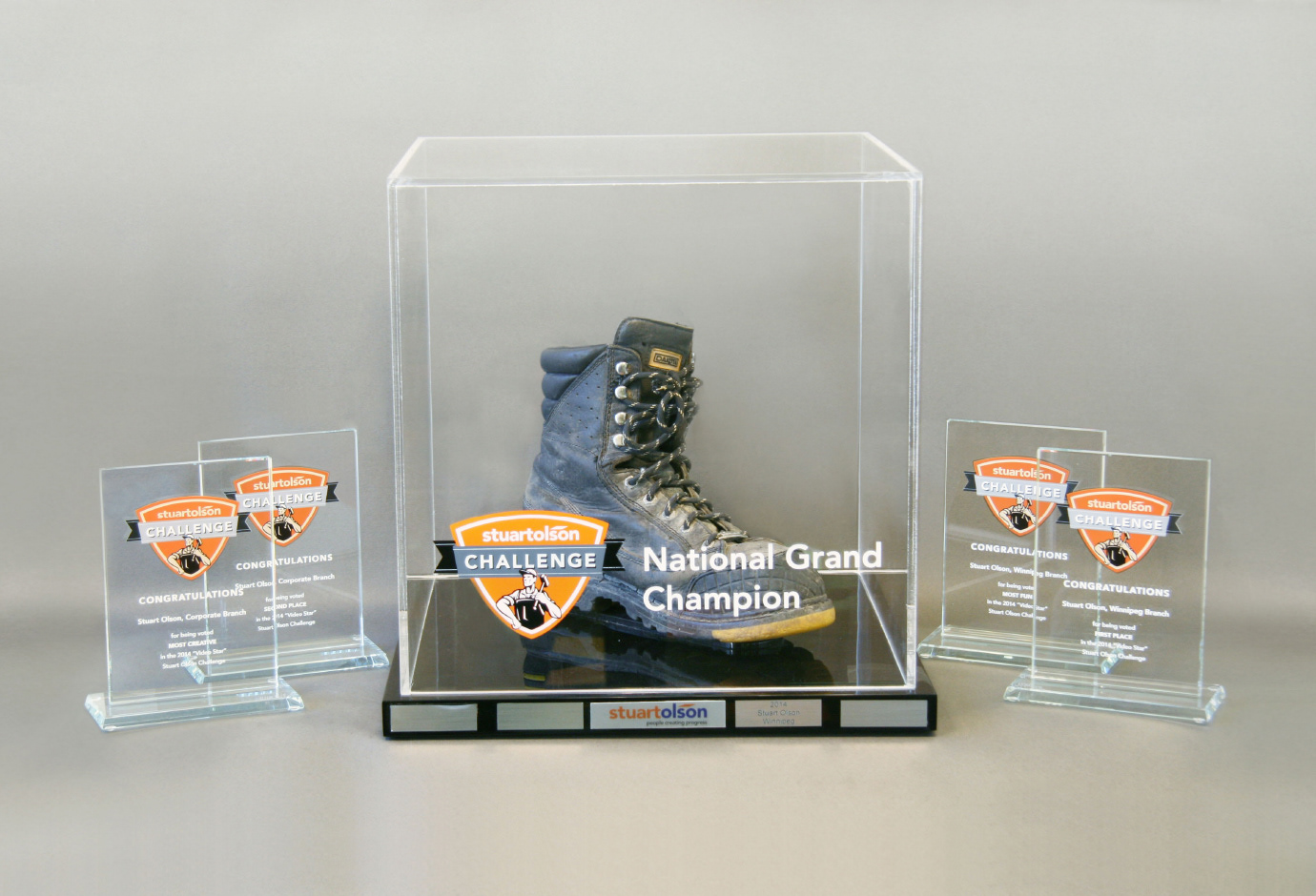 The Stuart Olson Challenge unified 4,200 geographically dispersed employees, with an award-winning employee engagement program.
Each quarter, in every Stuart Olson office location across Canada, the company set "Stuart Olson Challenges" for themselves – focused on safety, innovation, culture, efficiency and sustainability. At the end of
the year, the employee with the most outstanding achievements received the distinction of National Grand Champion and was awarded the quickly-coveted Stuart Olson "Work Boot."
Critical to the success of the company was the unity and hard work of its people, and we wanted to help Stuart Olson celebrate this key part of the organization. 
Part of this involved deconstructing the brand to its core values and inviting employees from across the country to, quite literally, "sign on." A high-quality, laminated and plaque poster was distributed to every office across the country to remind employees of the company's promise to its clients and to clearly communicate its internal values. In addition to this, a Stuart Olson Brand Standards guide was provided in both electronic and print format so that each market could maintain the brand's consistency in terms of voice and style. As part of the company's core strategy of having ongoing dialogue with its employees, Stuart Olson held town hall meetings each quarter to celebrate and communicate the progress of the new company identity and what it meant for them. To do this, we created a company-wide intranet (SOXNET) to celebrate the successes of the newly formed company and to further galvanize it's culture across the organization.